Scheda tecnica
Cyber Security Training Course Overview
Download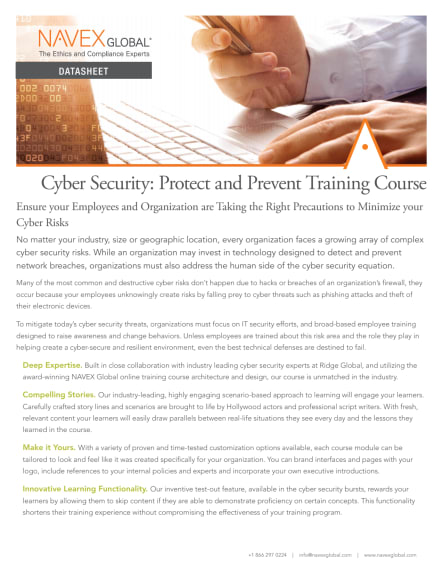 Scheda tecnica
Cyber Security Training Course Overview
Scarica
Informazioni Scheda tecnica
Every organization faces a growing array of complex cyber security risks. This course addresses the human side of cyber security & cyber risk management.
For anyone responsible for:

Ethics and compliance training program creation or management

What you'll learn:

Course details, design and content of our Cyber Security online compliance training course

Leggi la Scheda tecnica

Cyber Security: Protect and Prevent Training Course

Ensure your Employees and Organization are Taking the Right Precautions to Minimize your Cyber Risks

No matter your industry, size or geographic location, every organization faces a growing array of complex cyber security risks. While an organization may invest in technology designed to detect and prevent network breaches, organizations must also address the human side of the cyber security equation.

Many of the most common and destructive cyber risks don't happen due to hacks or breaches of an organization's firewall, they occur because your employees unknowingly create risks by falling prey to cyber threats such as phishing attacks and theft of their electronic devices.

To mitigate today's cyber security threats, organizations must focus on IT security efforts, and broad-based employee training designed to raise awareness and change behaviors. Unless employees are trained about this risk area and the role they play in helping create a cyber-secure and resilient environment, even the best technical defenses are destined to fail.

Deep Expertise. Built in close collaboration with industry leading cyber security experts at Ridge Global, and utilizing the award-winning NAVEX online training course architecture and design, our course is unmatched in the industry.

Compelling Stories. Our industry-leading, highly engaging scenario-based approach to learning will engage your learners. Carefully crafted story lines and scenarios are brought to life by Hollywood actors and professional script writers. With fresh, relevant content your learners will easily draw parallels between real-life situations they see every day and the lessons they learned in the course.

Make it Yours. With a variety of proven and time-tested customization options available, each course module can be tailored to look and feel like it was created specifically for your organization. You can brand interfaces and pages with your logo, include references to your internal policies and experts and incorporate your own executive introductions.

Innovative Learning Functionality. Our inventive test-out feature, available in the cyber security bursts, rewards your learners by allowing them to skip content if they are able to demonstrate proficiency on certain concepts. This functionality shortens their training experience without compromising the effectiveness of your training program.

Address Your Most Pressing Risks

Constructed around the needs of both employees and managers, we offer two 30-minute course versions and six burst learning modules. Each course includes four distinct modules that teach your employees about some of the most pressing cyber security threats your organization faces. With challenging interactivities and practical tips throughout the course, employees quickly come to appreciate the critical role that they play in cyber security. Additionally, our burst learning options allow you to quickly and easily do refresher or spot training for your employees to reinforce key messages.

Course Content

NAVEX's cyber security courseware includes two 30-minute courses and six burst. This suite of titles includes content designed to drive awareness and behavior change.

| Cyber Security: Protect and Prevent All Learners | Cyber Security: Protect and Prevent Manager Version | Available Bursts (Available only as high bandwidth audio and video content) |
| --- | --- | --- |
| - Introduction - Policy Basics - Personal Responsibility for Cyber Security - Employee Behaviors that Increase Risk - Wi-Fi and Mobile Security - Course Conclusion | - Introduction - Manager's Role - Managing Risk in the Employee Lifecycle - Managing Third Party Relationships - Reporting and Retaliation - Course Conclusion | - On the Go: Mobile Computing Fundamentals - You're Buying Lunch: Online Security - If Only it Were Really True: Phishing Attacks - A Kind Gesture: The Tailgating Risk - It's In the Cloud: Cyber Risks & Cloud Computing - Anytime, Anywhere Mobile Computing |

Bandwidth Options

High: Video & audio
Medium: Still images & audio
Low: Still images & text

Hosting Options

Host on our robust and scalable Learning Management System
Host on your own standards compliant Learning Management System (AICC and SCORM)
This course is supported on most mobile tablet devices

Course Length

Course 1: All Learner's 30 minutes
Course 2: Manager's 30 minutes
Burst Learning: Each bursts is 5-8 minutes
Custom Configuration: Remove modules as needed

Customization Options

Policy and logo inclusion
Map course content to your code
Create different course versions for different audiences
Create custom screens and exercises
Change course content over time
CEO introduction

**About NAVEX** NAVEX's GRC software and compliance management solutions support the integrated risk, ESG and compliance management programs at more than 13,000 organizations worldwide.
Let one of our training experts help you put together a Cyber Security training curriculum.