White Paper
The German Supply Chain Due Diligence Act - What Compliance Professional Need to Know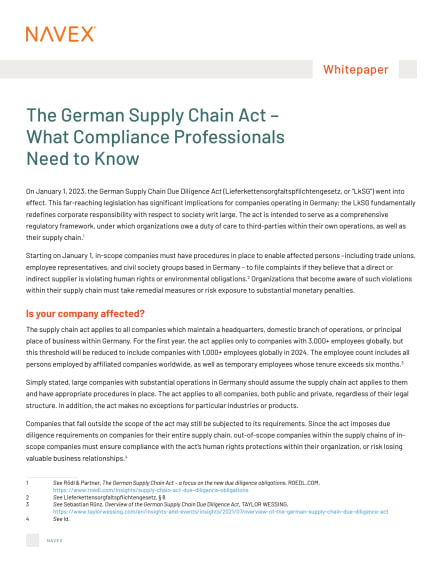 Get instant access to the White Paper
We respect your privacy and won't share your information with outside parties. View our privacy statement.
About this White Paper
On January 1st 2023 the German Supply Chain Due Diligence Act went into effect. The act serves as the most comprehensive regulatory framework that governs human rights within an organisation's supply chain to date. This white paper provides an overview of the legal obligations, and the duty of care, that enterprise organisations operating in Germany must now provide to protect the human rights of all persons employed within their direct and indirect third parties within their supply chain. The white paper also provides guidance on what an organisation needs to do to comply.
For anyone responsible for:

Managing third-party risk, internal whistleblowing programs and supply chain due diligence and compliance

Page length:

3 pages