White paper
Whistleblower Hotlines and Case Management Solutions - Major Challenges and Best Practice Recommendations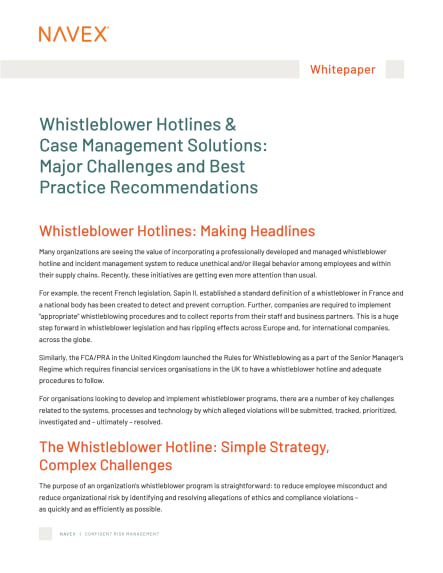 Is your hotline intake program as effective as it could be?
About this White paper
Many organizations are incorporating a professionally developed and managed whistleblower hotline and case management system to reduce unethical and/or illegal behavior. Understand the 9 key challenges related to development and management of an effective and efficient whistleblower hotline.
For anyone responsible for:

Incident management and hotline intake, capturing incident reports

What you'll learn:

Nine key challenges related to development and management of an effective and efficient whistleblower hotline
Sourcing considerations and the performance, Privacy and compliance factors related to outsourcing
Cost implications of the sourcing decision
The whistleblower hotline must be perceived as independent and credible
The whistleblower hotline must be universally accessible and user-friendly
Systems, tools and processes must enable accurate, intelligent tracking, reporting and decision-making

Page length:

12 pages