White Paper
What GRC Will Look Like by 2025 and How to Plan for It Now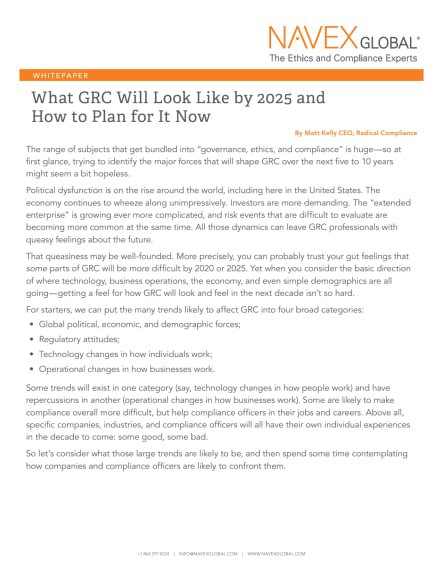 Get a jump on Ethics & Compliance trends today
We respect your privacy and won't share your information with outside parties. View our privacy statement.
About this White Paper
Compliance officers need to keep pace with regulatory changes—even ones that may not occur this year. See how you can respond to compliance trends today from this white paper by Matt Kelly.
For anyone responsible for:

Ethics and compliance program creation and management

What you'll learn:

Trends in four key areas expected to affect compliance in the next decade
How companies and compliance officers are likely to confront them
Two examples are highlighted from opposite ends of the CCO's realm of responsibility: nurturing a strong corporate culture and third-party oversight

Learn how these four categories will impact your future as a GRC professional:

Global political, economic, and demographic forces
Regulatory attitudes
Technology changes
Business operational changes

Page length:

5 pages