White Paper
What to Ask: Assessing Third Party Risk Management Solutions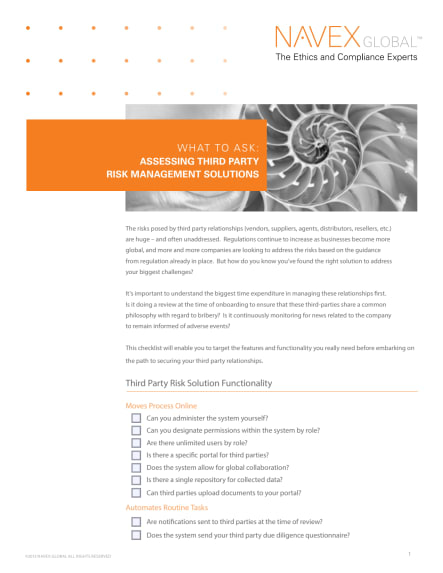 Choose the right partner
By submitting this form, you agree that NAVEX will store and process your personal information above according to our Privacy Statement and may send you thought leadership, marketing emails, and events. You can unsubscribe from communications at any point.
About this White Paper
The risks posed by third party relationships (vendors, suppliers, agents, distributors, resellers, etc.) are huge, and often unaddressed. Regulations continue to increase as businesses become more global. You're ready to automate your third party due diligence program, but how do you choose the right partner? Get key questions to ask.
For anyone responsible for:

Evaluating third party risk management solutions

What you'll learn:

This checklist will enable you to target the features and functionality you really need before embarking on the path to securing your third party relationships.

Page length:

2 pages