White Paper
Updating Your Code of Conduct – A Step-by-Step Approach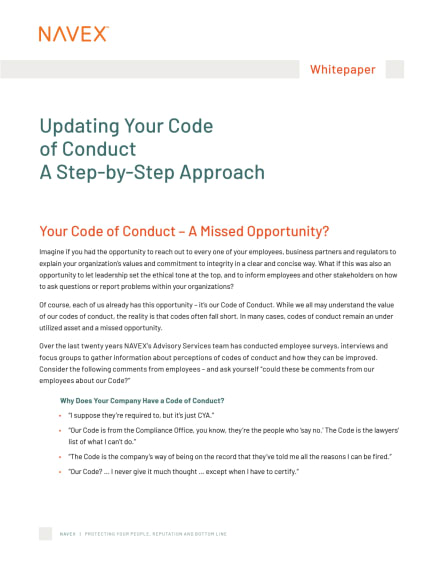 Start improving your code of conduct today
By submitting this form, you agree that NAVEX will store and process your personal information above according to our Privacy Statement and may send you thought leadership, marketing emails, and events. You can unsubscribe from communications at any point.
About this White Paper
Too often an organization's code of conduct falls short and is an underutilized asset and a missed opportunity. In this step-by-step approach, you will learn how to update your code of conduct, leveraging both the process and the roll-out to gain the maximum benefit for your ethics and compliance program.
For anyone responsible for:

Reviewing or writing an organization's code of conduct

A six-step approach to updating your code of conduct:

Make the case for a new code
Assemble your team
Determine your code of conduct content: conducting an ethics and compliance risk and gap assessment
Select a writing style and design that reflect your culture and priorities
Draft the code and manage the review process
Make the most of the code launch

Page length:

4 pages