White Paper
The Portuguese Decree Law 109-E/2021, General Regime for the Prevention of Corruption (RGCP) PDF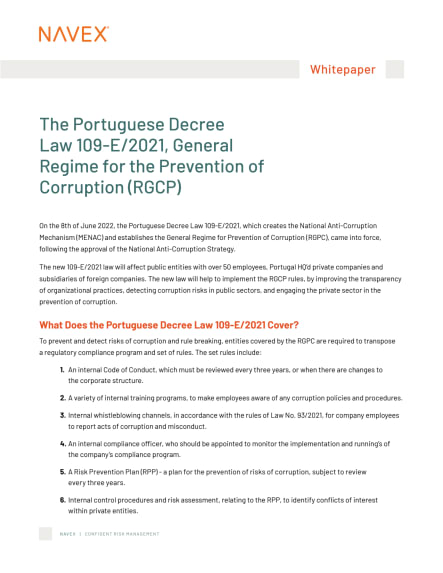 Get instant access to the White Paper
We respect your privacy and won't share your information with outside parties. View our privacy statement.
About this White Paper
The Portuguese Decree Law 109-E/2021, which creates the National Anti-Corruption Mechanism (MENAC) and establishes the General Regime for Prevention of Corruption (RGPC), came into force 8th June 2022, following the approval of the National Anti-Corruption Strategy. The aim of the law is to tackle corruption and the risk of corruption within public and private entities.
For anyone responsible for:

Managing a bribery and corruption programme, combating bribery, third party due diligence

What You'll Learn:

What the Portuguese Decree Law 109-E/2021 covers
How the new 109-E/2021 Law rules tackles corruption
Why has Law 109-E/2021 been introduced

Page Length:

2 pages