White Paper
Ten Steps to Create an Organizational Culture of Ethics, Integrity & Compliance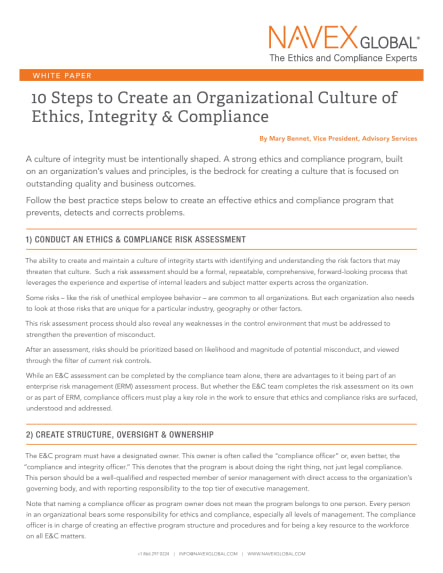 Get instant access to the White Paper
We respect your privacy and won't share your information with outside parties. View our privacy statement.
About this White Paper
A strong ethics and compliance program, built on an organization's values and principles, is the bedrock for creating a culture that is focused on outstanding quality and business outcomes. Learn best practices to create an effective ethics and compliance program that prevents, detects and corrects problems.
For anyone responsible for:

Ethics and compliance program creation or management

This paper answers the questions:

What is the best-practice reporting structure for a compliance program?
How often should compliance professionals complete compliance program audits?
What is one document no compliance program should be without?

Page length:

6 pages