White paper
Strength in Numbers: The ROI of Compliance Program Hotline Reporting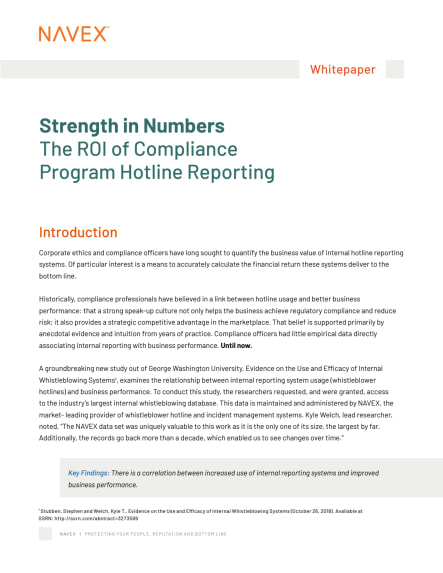 Is your ethics & compliance program up to date?
About this White paper
Highlights findings from groundbreaking report, "Evidence on the Use and Efficacy of Internal Whistleblowing Systems". Includes analysis of over 10 years' worth of records from NAVEX and demonstrates a relationship between internal reporting system usage (whistleblower hotlines) and positive business performance.
For anyone responsible for:

Demonstrating the ROI of a whistleblower hotline

Download this white paper to get:

Statistics on the ROI of compliance
Empirical evidence from George Washington University
Facts on how a speak-up culture improves business performance
Details on how to give your business a competitive market advantage with compliance

Page length:

7 pages