White Paper
Revisiting Third Party Risk in an Era of Increased Enforcement: An Organizational Imperative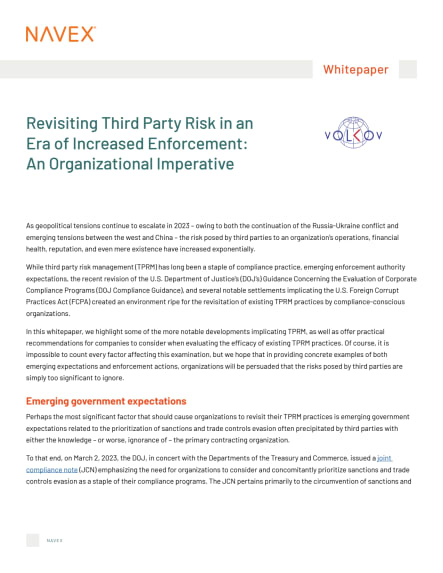 Get instant access to the White Paper
By submitting this form, you agree that NAVEX will store and process your personal information above according to our Privacy Statement and may send you thought leadership, marketing emails, and events. You can unsubscribe from communications at any point.
About this White Paper
While third party risk management (TPRM) has long been a staple of compliance practice, emerging enforcement authority expectations, the recent revision of the U.S. Department of Justice's (DOJ's) Guidance Concerning the Evaluation of Corporate Compliance Programs (DOJ Compliance Guidance), and several notable settlements implicating the U.S. Foreign Corrupt Practices Act (FCPA) created an environment ripe for the revisitation of existing TPRM practices by compliance-conscious organizations.
What you'll learn:

Practical considerations when evaluating the efficacy of existing TPRM practices
Recent developments implicating TPRM practices, including the revised DOJ Compliance Guidance and notable settlements implicating the U.S. Foreign Corrupt Practices Act

For anyone responsible for:

Third party risk management, vendor management, third party due diligence

Length:

5 pages