White Paper
Quick Guide to IT and TPRM Risk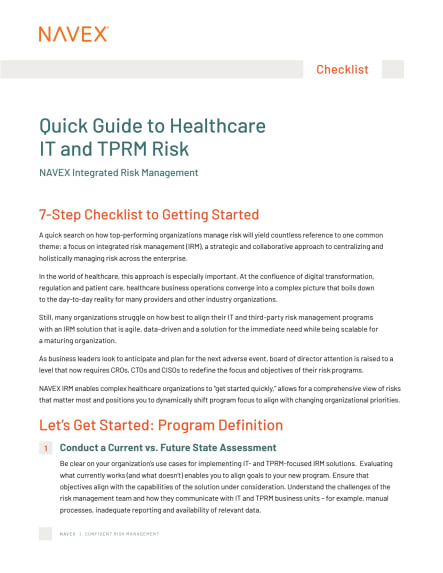 Get instant access to the White Paper
We respect your privacy and won't share your information with outside parties. View our privacy statement.
About this White Paper
An IRM solution is modeled on a risk-based strategy and requires a platform that aggregates data and offers a single-pane view of all IRM use cases. It must be quick and simple to adopt, and flexible enough to support your program's evolution while navigating the rapidly changing risk landscape. Download our 7-step checklist for aligning your IT and third-party risk management programs with an IRM solution that is agile, data-driven and scalable.
Intended audience:

IT Risk and/or Third-Party Risk Managers

What You'll Learn:

How to conduct a current vs future state assessment
How to define a program scope for the next 1-2 years
How to train your people
and more!

Page length:

3 pages