White Paper
Prioritizing Policy & Procedure Management Based on Healthcare Trends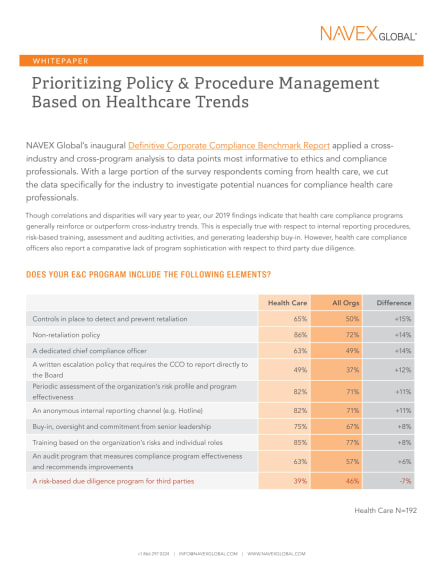 Get started designing a due diligence process today
We respect your privacy and won't share your information with outside parties. View our privacy statement.
About this White Paper
There are several strategies health care organizations can adopt to more effectively manage their critical policies and procedures, greatly impacting the performance and longevity of program efforts. We examine how to prioritize policy and procedure management based on healthcare trends.
For anyone responsible for:

Policy & procedure management within their healthcare industry organization

What you'll learn:

Healthcare's higher performing categories against other industries
Gaps that healthcare organizations aren't seeing
Questions to ask when developing a policy and / or procedure
How to extend the efficiency of policy & procedure management programs

Page length:

4 pages