White Paper
Modern Whistleblower Retaliation Risk Require a Modern Framework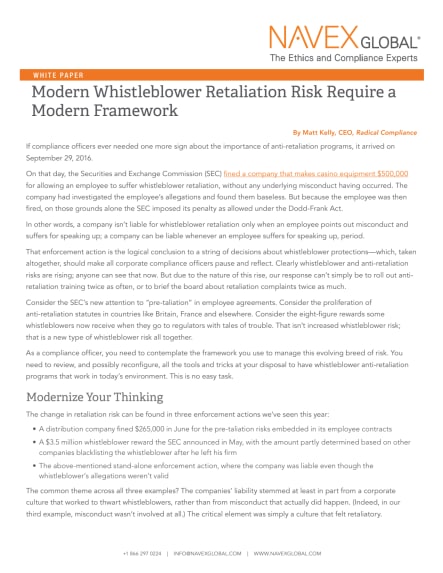 Is your whistleblower hotline program up to date?
We respect your privacy and won't share your information with outside parties. View our privacy statement.
About this White Paper
There has been a change in whistleblower retaliation risk. It's called pretaliation, and it's getting a lot of attention from regulation enforcers. Get a better understanding of what exactly pretaliation is and learn ways to modernize your thinking, tactics and management to foster a speak-up culture.
For anyone responsible for:

Managing a whistleblowing programme and protecting against retaliation

What you'll learn:

The SEC's new focus on "pretaliation" in employee agreements and the proliferation of anti-retaliation statutes in Britain, France and elsewhere
How compliance officers can manage this evolving breed of risk

Page length:

4 pages