White Paper
Hotlines & Headlines: The Relationship Between Hotline Reporting and Corporate Reputation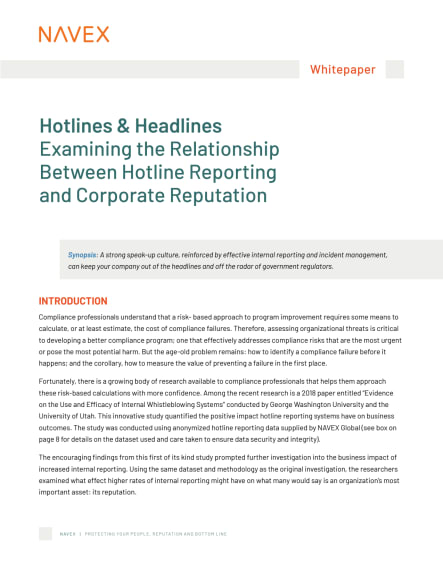 Is your ethics & compliance program up to date?
By submitting this form, you agree that NAVEX will store and process your personal information above according to our Privacy Statement and may send you thought leadership, marketing emails, and events. You can unsubscribe from communications at any point.
About this White Paper
Using anonymized hotline reporting data supplied by NAVEX, researchers tested for a relationship between hotline usage and media coverage. The findings convey a clear message to businesses as they assess the cost/benefit of a robust compliance program, reinforced by effective internal reporting and incident management.
For anyone responsible for:

Demonstrating the corporate benefits of a whistleblower hotline

What you'll learn:

The relationship between hotline usage and media coverage
The correlation between hotline activity and regulatory action

Page length:

7 pages