White Paper
A Holistic Approach to Anti-Corruption Compliance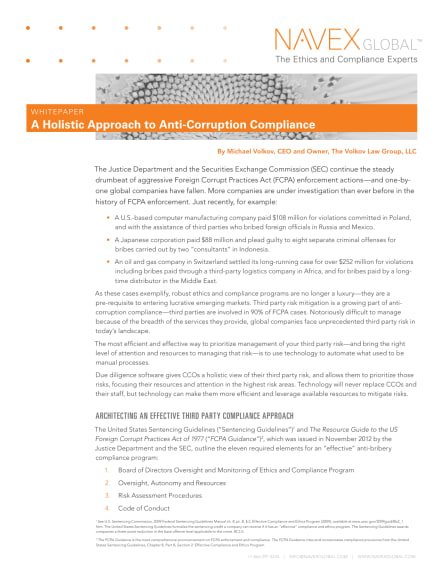 Start building an effective anti-corruption compliance program
We respect your privacy and won't share your information with outside parties. View our privacy statement.
About this White Paper
Global companies face unprecedented third party risk in today's landscape—third parties are involved in 90% of Foreign Corrupt Practices Act (FCPA) cases, and more companies are under FCPA investigation than ever. Learn best practices for building an effective anti-corruption compliance program.
For anyone responsible for:

Vendor management, third party due diligence, third party risk management

What you'll learn:

Key elements every anti-bribery and corruption program must have
How to bring an anti-corruption program's elements together
Industry trends that will significantly impact anti-corruption program management

Page length:

6 pages