White Paper
Getting Started with Policy & Procedure Management (Part 1)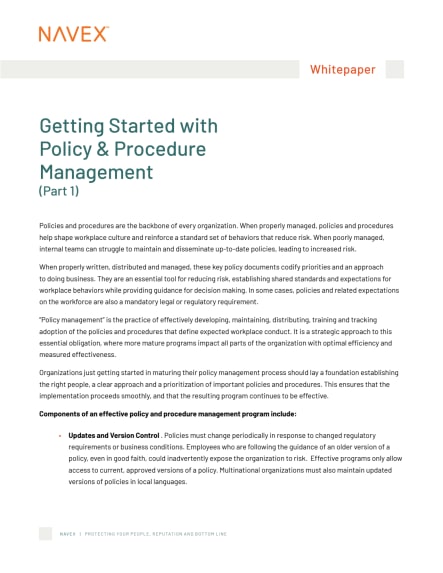 Get instant access to the White Paper
We respect your privacy and won't share your information with outside parties. View our privacy statement.
About this White Paper
Policies and procedures are the backbone of every organization. When properly managed, policies and procedures help shape workplace culture and reinforce a standard set of behaviors that reduce risk. When poorly managed, internal teams can struggle to maintain and disseminate up-to-date policies, leading to increased risk. Organizations just getting started in maturing their policy management process should lay a foundation establishing the right people, a clear approach and a prioritization of important policies and procedures. Read our Getting Started guide to learn how.
For anyone responsible for:

Distributing policies, policy management, writing and review, document control, document versioning

What you'll learn:

• The components of an effective policy and procedure management program
• How to assemble the right team for your policy management program
• How to define a strategic approach that serves as the foundation of your policy management program

Page length:

4 pages