eBook
Are you Missing 82% of Your Compliance Reports?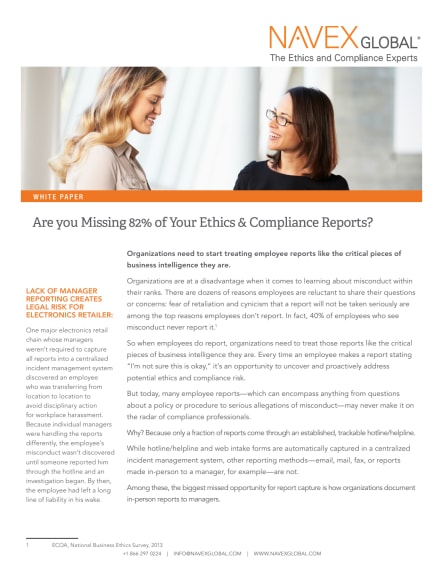 Capture every report
We respect your privacy and won't share your information with outside parties. View our privacy statement.
About this eBook
82% of employees report ethics and compliance issues directly to their managers. If organizations don't require managers to document those reports, visibility into the scope of compliance risk can be compromised. Learn how to treat employee ethics and compliance reports like the critical pieces of business intelligence they are.
For anyone responsible for:

Managing the capture of employee misconduct reports through the hotline, web, or other intake methods

What you'll learn:

The importance of treating employee reports like the critical pieces of business intelligence they are
How to empower managers with an open door intake form to help better protect the organization from compliance risk
How a centralised incident management system can protect your organization from legal, financial and reputational risk

Page length:

4 pages