White Paper
Anti-Bribery and Corruption Risk Assessment Checklist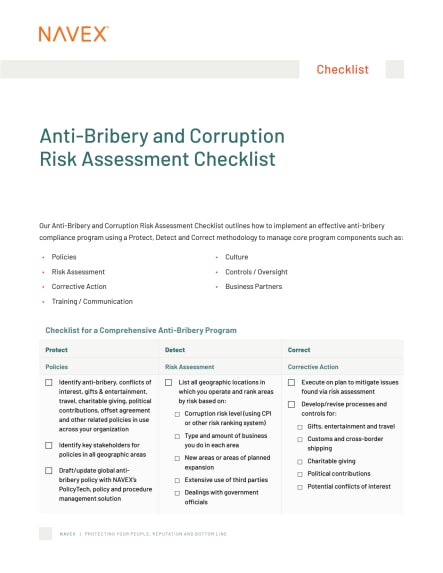 Get started detecting and assessing existing risks
We respect your privacy and won't share your information with outside parties. View our privacy statement.
About this White Paper
Screening your third party vendors and business partners for risk can be a challenging process. With so many factors to consider, where do you begin? With our Anti-Bribery and Corruption Risk Assessment Checklist, you can streamline your compliance risk assessment process and ensure each point of risk is addressed.
For anyone responsible for:

Creating programs and processes to reduce bribery and corruption in their organization

What you'll learn:

How to implement an effective anti-bribery compliance program using a protect, detect and correct methodology to manage core program components
What steps to take to ensure your organization remains vigilant against bribery and corruption
How to streamline your compliance risk assessment processes and ensure each potential point of risk is addressed

Page length:

5 pages