White Paper
4 Things to Know About Updated NIST 800-53 Standards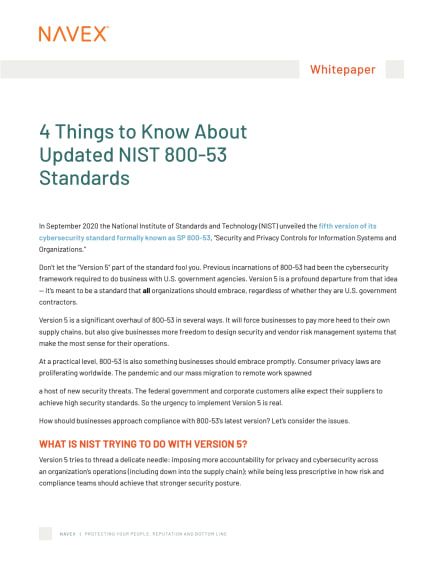 Get instant access to the White Paper
We respect your privacy and won't share your information with outside parties. View our privacy statement.
About this White Paper
In September 2020 the National Institute of Standards and Technology (NIST) unveiled the fifth version of its cybersecurity standard formally known as SP 800-53, "Security and Privacy Controls for Information Systems and Organizations." Expanding privacy laws, the global pandemic and mass migration to remote work have spawned a host of new security threats. Companies that embrace NIST 800-53 r5 will be better positioned to mitigate the risks that these threats pose to their business and suppliers.
For anyone responsible for:

Creating, developing, or maintaining an enterprise cybersecurity program

Page length:

4 pages