Download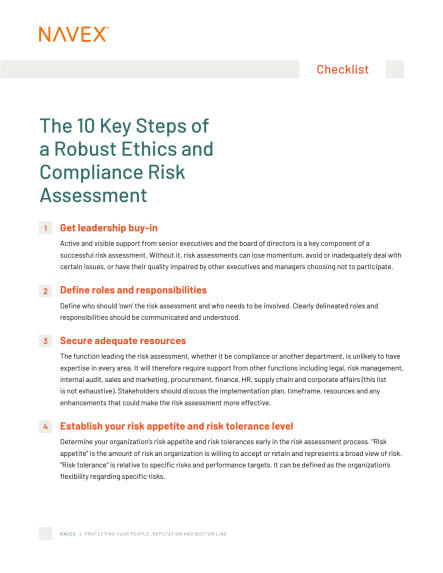 White Paper
10 Key Steps of a Robust Ethics and Compliance Risk Assessment
Download
About this White Paper
Having a strong Ethics and Compliance Program in place helps to minimize the risks to your organization from changing regulations and unethical conduct. Read about the 10 key elements to follow when you are developing or growing your program.
For anyone responsible for:

Risk, human resources, and compliance management

What You'll Learn:

How to gain buy-in from leadership and to secure resources, to how to identify risks and develop an action plan

Page length:

2 pages
Read the White Paper
The 10 Key Steps of a Robust Ethics and Compliance Risk Assessment
---
1. Get leadership buy-in
Active and visible support from senior executives and the board of directors is a key component of a successful risk assessment. Without it, risk assessments can lose momentum, avoid or inadequately deal with certain issues, or have their quality impaired by other executives and managers choosing not to participate.
2. Define roles and responsibilities
Define who should 'own' the risk assessment and who needs to be involved. Clearly delineated roles and responsibilities should be communicated and understood.
Download the checklist to read all 10 steps.
About NAVEX
NAVEX's GRC software and compliance management solutions support the integrated risk, ESG and compliance management programs at more than 13,000 organizations worldwide.