Sample Policy
Global Anti-Discrimination & Anti-Harassment Sample Policy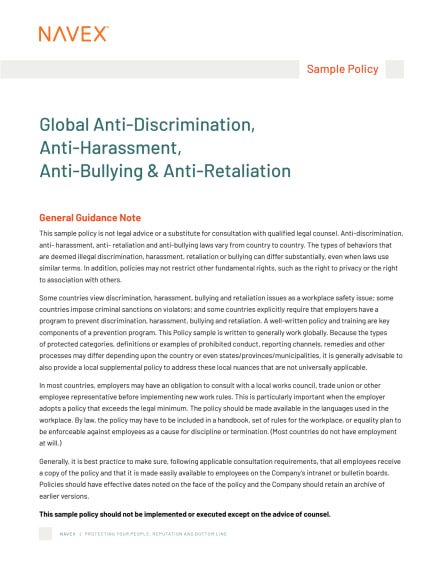 Download this ready-to-use sample policy template now
We respect your privacy and won't share your information with outside parties. View our privacy statement.
About this Sample Policy
A survey from SHRM (The Society for Human Resource Management) found 56% of US employers do not have workplace bullying policies yet 35% of the US workforce has reported being bullied at work. Make sure your anti-harassment and bullying policy is truly covering your risks: compare yours to this sample policy.
For anyone responsible for:

Creating or managing an anti-harassment and anti-discrimination policy

What's included:

General guidance and sample text for an anti-harassment and anti-discrimination policy
Definitions and examples of harassment and discrimination

Solution:

Page length:

4 pages
Learn how to make your policy workflow more efficient with PolicyTech