Sample Policy
Anti-Bribery Sample Policy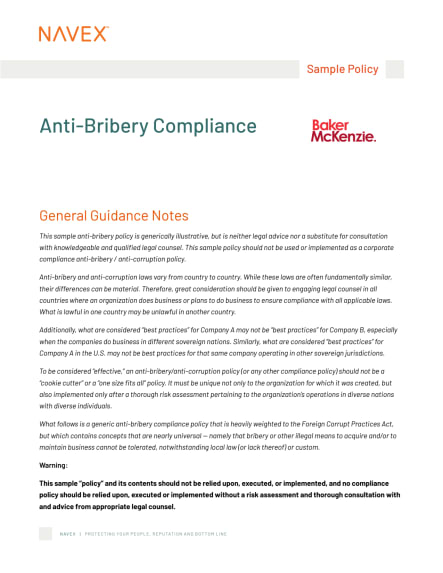 Download my ready-to-use sample policy template now
By submitting this form, you agree that NAVEX will store and process your personal information above according to our Privacy Statement and may send you thought leadership, marketing emails, and events. You can unsubscribe from communications at any point.
About this Sample Policy
Protecting your organization from the pitfall of bribery starts with an effective policy outlining what is acceptable, and what is unacceptable. Download this anti-bribery sample policy template from top law firm Baker McKenzie and put it to work for you today.
For anyone responsible for:

Creating or managing an anti-bribery and corruption policy

Solution:

Page length:

9 pages
Learn how to make your policy workflow more efficient with PolicyTech