Download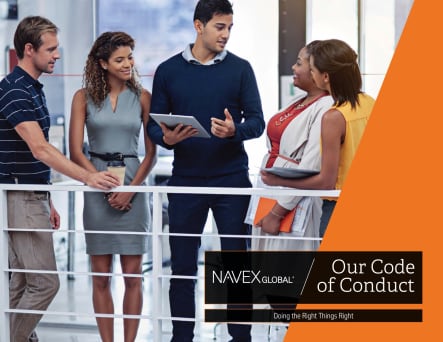 Sample Policy
Doing the Right Things Right: NAVEX's Code of Conduct
Download
About this Sample Policy
Get a sample code of conduct you can use to get ideas for your own code: download NAVEX's corporate code of conduct.
For anyone responsible for:

Reviewing or writing an organization's code of conduct

Page length:

39 pages
Want a great code of conduct for your employees?
Read the Sample Policy
Our Code of Conduct is intended to help us make good decisions on the job every day. Of course, no code can cover every possible topic, scenario or situation, which is why we count on everyone on our team to use good judgment and ask questions whenever there is doubt about what to do.
Our culture is built on good decisions made through open and honest discussion with others, so you should never feel alone when facing an ethical dilemma and always feel encouraged to approach your manager or an executive team member with a concern.
Our continued success depends on each and every one of us consistently doing what is right. As we continue to grow, we want to be proud not only of our achievements, but also of how we achieve success.
This is Our Code of Conduct – Live It! – and be passionate about and committed to doing the right things right. Thank you from the entire Leadership Team!
Bob Conlin
President and CEO, NAVEX