Download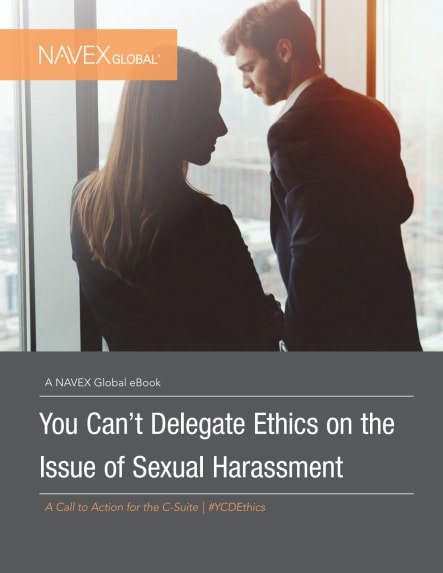 eBook
The C-Suite Can't Delegate Ethics on the Issue of Sexual Harassment
Download
About this eBook
The issue of sexual harassment in the workplace has gone beyond requiring half measures by leaders. This compilation of perspectives shares how members of the C-suite can and should use this tipping point to drive change to remove this toxic behavior.
Intended audience:

Members of the C-Suite, company leaders and upper level management

We explore the following questions:

What's different about our current climate of sexual harassment?
Why leaders need to own the issue of sexual harassment?
How people can be the cause and also the solution to sexual harassment?
How to illuminate gray areas in sexual harassment

Page length:

12 pages
Read the eBook
eBook Overview
There is no denying the alarming scope and prevalence of workplace sexual harassment. For the past several months, it seems not a day goes by without news of another troubling example of egregious workplace behavior. Victims of sexual harassment have moved beyond simply speaking up; they are now standing up, speaking out and making sure their voices are heard. While it's troubling to learn that so many (mostly) women have suffered the traumatic impact of sexual harassment, their bravery to bring this issue into the light deserves applause.
For leaders of organizations, this is a tipping point – and we are clearly past the point of half-measures. Policies and training will continue to be vital, but more important is taking bold and decisive steps to fundamentally change workplace culture. If codes of conduct, anti-harassment policies and trainings are contradicted by day-to-day experiences, investment in these tools is wasted. Worse, employees and companies are left at great risk.
While organizations that have apparently tolerated inappropriate behavior fill the news cycle, it is important to recognize that thousands of companies have been incredibly successful establishing ethical cultures.
- Bob Conlin, President and CEO, NAVEX