Download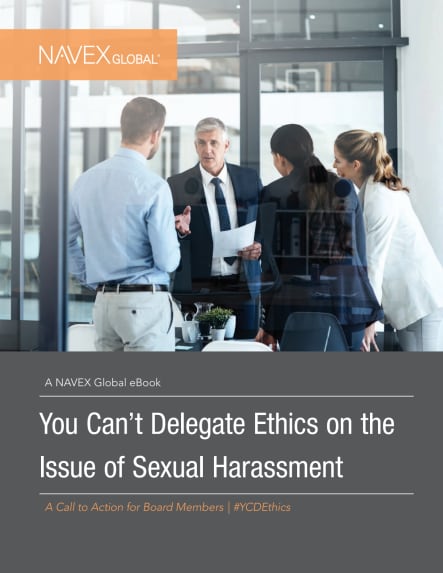 eBook
Board Members Can't Delegate Ethics on the Issue of Sexual Harassment
Download
About this eBook
Concerns about sexual harassment in the workplace should be top-of-mind for every board member. Corporate leaders need to own the issue of workplace harassment, not just for the good of their employees, but for the good of their shareholders and stakeholders.
Intended audience:

Board members

We explore the following questions:

What's different about our current climate of sexual harassment?
Why board members need to step outside of the boardroom on the issue of sexual harassment
How younger generations are making discrimination and sexual harassment a board issue
How inclusivity yields better decisions for the overall business

Page length:

14 pages
Read the eBook
eBook Overview
"In the current environment, [the] stakeholders are demanding that companies exercise leadership on a broader range of issues. And they are right to: a company's ability to manage environmental, social, and governance matters demonstrate the leadership and good governance that is so essential to sustainable growth, which is why we are increasingly integrating these issues into our investment process."
Larry Fink, the Founder, Chairman and Chief Executive Officer of BlackRock, wrote these words in his annual letter to CEO
BlackRock is the world's largest asset management company, with $6.3 trillion in investments. Mr. Fink's letter speaks to the changing face of investor's focus – not simply from quarterly returns and financial performance – but to governance and the long-term profitability of corporations that focus on ethical behavior and corporate culture.
Investors and asset managers care increasingly about corporate culture for good reason: it drives profitability. For example, before the firing of one CEO in a high-profile case last year, it was reported that staff turnover in the organization was 30-40 percent per year. When employee churn is that high, the cost of recruitment and business management goes up substantially, draining profitability, which can lead to unrelenting pressure on sales and tolerance of misbehaviour of high-financially-performing leaders.
In an article titled, "Sexual Harassment is Becoming a Serious Investor Risk," Barron's cover story noted, "Companies that tolerate or cover up sexual harassment, perpetuate a culture that fosters it, or fail to provide proper avenues for employees to report concerns and offenses, could pay in multiple ways, from difficulties in attracting, retaining, and motivating talented workers to customer defections, ruined business deals, and lost revenue and profit."
Barron's reported that Eve Ellis, a portfolio manager with Morgan Stanley's Matterhorn Group, generally avoids investing in companies facing class action or individual lawsuits dealing with gender. "They might cost a company money, and lead to reputational risk," she says.
Concerns about sexual harassment, bullying and corporate culture should be top-of-mind of every CEO, C-suite executive and board member. Corporate ethics and culture can't be delegated to the HR and Compliance functions. It is the responsibility of the leaders to own it, not just for the good of their employees, but for the good of their shareholders and stakeholders. As Larry Fink said, "To prosper over time, every company must not only deliver financial performance, but also show how it makes a positive contribution to society."
- By Kristy Grant-Hart CEO, Spark Compliance Consulting