Definitive Guide
Definitive Guide to Your Code of Conduct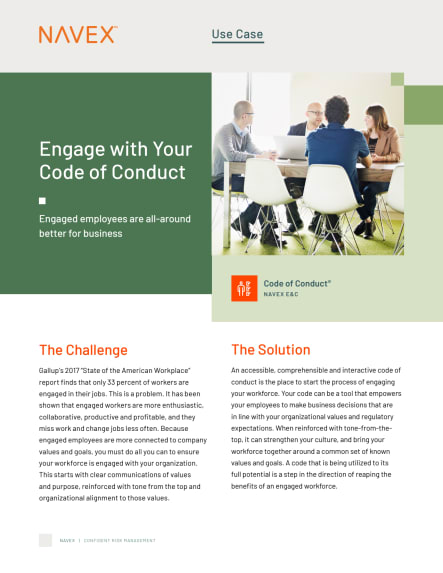 Bring your code of conduct to life
By submitting this form, you agree that NAVEX will store and process your personal information above according to our Privacy Statement and may send you thought leadership, marketing emails, and events. You can unsubscribe from communications at any point.
About this Definitive Guide
Your code of conduct is the single most important tool for creating an ethical culture. Learn everything you need to transform your code of conduct from a document into a resource that employees can use to engage with your organization's goals and values.
For anyone responsible for:

Reviewing or writing an organization's code of conduct

What you'll learn:

How to plan and build your new code of conduct
What should and shouldn't be included in your code of conduct
How to promote and train employees on your code of conduct
Events that might necessitate a code of conduct update

Page length:

8 pages
Learn more about our integrated risk and compliance products and services