White paper
Holistic Third Party Risk Management
Download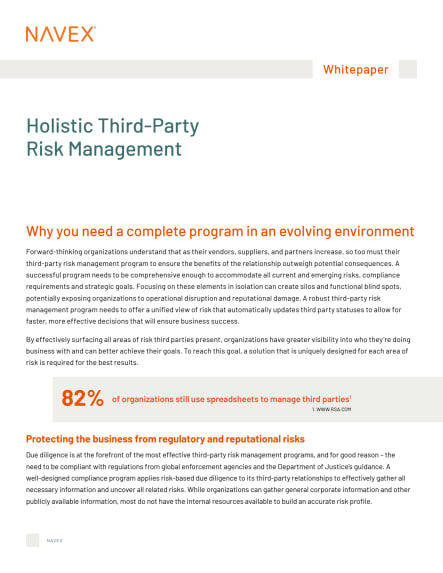 White paper
Holistic Third Party Risk Management
Download
About this White paper
Forward-thinking organizations understand that as their vendors, suppliers, and partners increase, so too must their third-party risk management program to ensure the benefits of the relationship outweigh potential consequences.
A successful program needs to be comprehensive enough to accommodate all current and emerging risks, compliance requirements and strategic goals. By effectively surfacing all areas of risk third parties present, organizations have greater visibility into who they're doing business with and can better achieve their goals.
To reach this goal, a solution that is uniquely designed for each area of risk is required for the best results.
For anyone responsible for:

Third party risk management
Vendor management
Third party due diligence

What you'll learn:

What types of third-party risk exist
Why organizations need a holistic approach to third-party risk management
Steps to take to build a holistic program

Page length:

2 pages