Download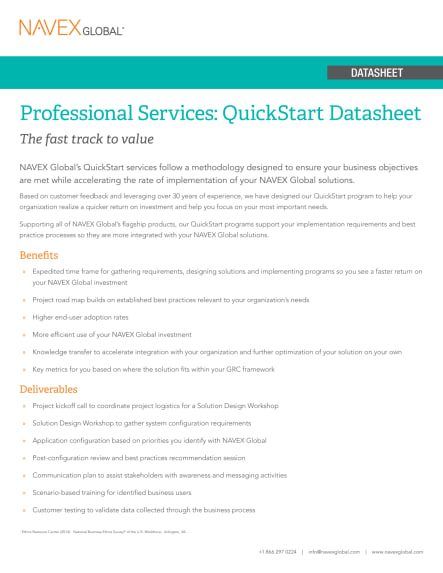 Datasheet
Professional Services QuickStart Services
Download
About this Datasheet
Get your EthicsPoint hotline and case management system configured quickly and easily with our Professional Services QuickStart Services.
For anyone responsible for:

Deploying EthicsPoint hotline and incident management system

What you'll learn:

The benefits, methodology and deliverables of the NAVEX QuickStart Services program

Read the Datasheet

Quicker deployment means a quicker – and often better – return

NAVEX's QuickStart Services follow a methodology designed to ensure your business objectives are met while accelerating the rate of implementation of your NAVEX solution. Based on client feedback and leveraging over a decade's worth of experience, we have designed our QuickStart Services program to help your organization realize a quicker return on investment and help you focus on your most important needs.

Created for our EthicsPoint hotline and case management system,* our QuickStart Services program will support your implementation requirements and Best Practice processes that will be integrated with the NAVEX application.

BENEFITS

Requirements gathering and solution design in an expedited time frame
Faster return on your NAVEX investment
Project road map and established best practices specific to your organizations needs
Higher end-user adoption rates and more efficient use of your NAVEX investment
Knowledge transfer needed to accelerate implementation and further optimize your solution
Establish metrics to measure and manage your incident intake, investigative, and reporting processes

DELIVERABLES

QuickStart Services will include the following deliverables:

Project kick-off call to coordinate project logistics for a Solution Design Workshop
Solution Design Workshop to gather system configuration requirements
Application configuration based on priorities identified by client and NAVEX Enterprise Services
Post-configuration review and best practices recommendation session
Sponsorship and communication plan to assist stakeholders with awareness and messaging activities
Scenario-based training for identified business users
User acceptance and certification to validate data collected through the case management process

*Note: This QuickStart Services program is not designed to support advanced deployments, including highly customized requirements, complex workflow, data migration or integration, or complex, custom analytical needs. These services would need to be scoped separately.

Quickstart Workflow and Activities

| PHASE | STEP | ACTIVITIES |
| --- | --- | --- |
| Project management, sponsorship and communication | A. Pre-engagement email | - Send 'Welcome to NAVEX' email - Review agenda for kick-off call - Review workbook attachment |
| | B. Pre-engagement kick-off call | - Validate goals and objectives - Review contract SOW - Clarify project management roles, responsibility and timelines - Review workbook - Review current state questionnaire |
| | C. Sponsorship and communication | - Develop sponsorship and communication plan (message, vehicle, audience, timing, etc.) - Provide email templates for messaging - Develop recorded webinar training |
| Assess, plan and design | D. Solution Design Workshop | - Review Current State questionnaire - Document Current State workflow - Review and validate workbook requirements (Telephony, database settings, tier/organizational, issue categories, location database, intake questionnaire, user profile, portal development, portal localization, analytics). |
| Configuration, training and deployment | E. Application configuration | - Completed by Client Services Organization |
| | F. Post-configuration review | - Review configured site - Provide recommendations leveraging PSO best practices |
| | G. User acceptance and certification | - Develop scripted test plan - Develop business case scenarios for user to validate processes and data throughout the case management process |
| | H. Scenario-based training | - Leverage business case scenarios for training certification - Provide administrator training - Provide scenario-base user training |

About NAVEX

NAVEX's GRC software and compliance management solutions support the integrated risk, ESG and compliance management programs at more than 13,000 organizations worldwide.