Download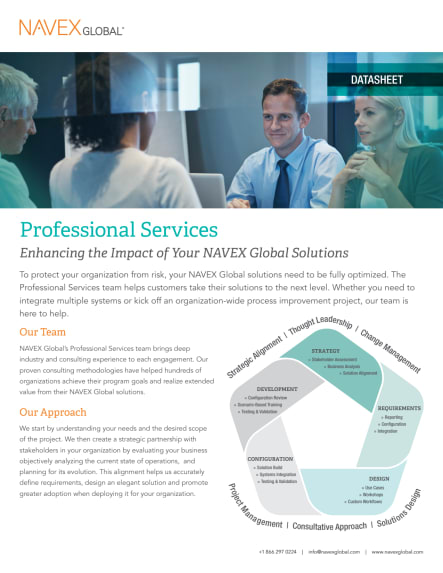 Datasheet
Professional Services Overview
Download
About this Datasheet
NAVEX's Consulting Team supports your compliance objectives. Partner with us to develop a plan specific to your project, department, or organization.
For anyone responsible for:

Implementing a NAVEX product or solution

What you'll learn:

Our approach to determining your needs and creating strategic alignment with stakeholders in your organization
The services and methodologies we employ to help organizations meet and exceed their program goals
Learn More About Our Comprehensive Compliance Management Platform
Read the Datasheet
Professional Services
Unlocking the Value of Your NAVEX Solutions
To protect your organization from ethics and compliance (E&C) risk, your E&C solutions need to be fully optimized. NAVEX's Professional Services team helps clients take their solutions—and their E&C programs—to the next level. Whether you need to integrate multiple systems or kick off an organization-wide process improvement project, our consultants are here to help.
Our Team
NAVEX's Professional Services team brings deep industry and consulting experience to each engagement. Our proven consulting methodologies have helped hundreds of organizations meet and exceed their program goals—and get extended value from their NAVEX solutions.
Our Approach
For each project, we start with a client kick off meeting to best understand your needs and understand the scope of the project. We then create a strategic alignment with stakeholders in the organization. This alignment helps us define requirements, design a solution and deploy it for your organization.
Our Services
QuickStart Services: Reduce ramp-up time for your team with our QuickStart Services. Our team will help ensure that your solutions are launched and delivering utmost value for your organization as quickly as possible. We'll also make sure that your solutions are aligned to your specific business process and reporting needs each step of the way.
System Review: Unlock the full ROI of your NAVEX solutions by fine-tuning your current approach. Our team can help you leverage advanced features, streamline workflows and implement best practice processes to maximize your investment through an enterprise-wide evaluation.
Change Management Consulting: Maximize adoption and minimize disruption related to new solutions and processes by partnering with us to implement best-practice change management. An often-overlooked success factor, successful change management is critical to the success of any process or software implementation—and it can be one of the hardest aspects of a project to manage internally. Our team will help.
Global Whistleblower Compliance Consulting: Meet global whistleblower requirements and strengthen your reporting program with support from our team. We'll help you navigate the complex ins and outs of a global whistleblower program while meeting all applicable laws and regulations.
Custom Consulting Engagement: Address your unique circumstances—and reach your specific goals and objectives—through a customized consulting engagement with our team. We'll help you design and implement approaches that work best for your organization.
Custom Solutions Training: Ensure that you and your team have the expertise, metrics and materials you need to succeed. Our team will deploy targeted, custom training to help your team become advanced users of our E&C tools—another key way to maximize the value of your NAVEX solutions.
---
"We can say with 100% certainty that Professional Services are vital to making [NAVEX's] product offerings as strong as they are."
- Client feedback in NAVEX survey
---
About NAVEX
NAVEX's GRC software and compliance management solutions support the integrated risk, ESG and compliance management programs at more than 13,000 organizations worldwide.