Datasheet
The NAVEX IRM Platform
Download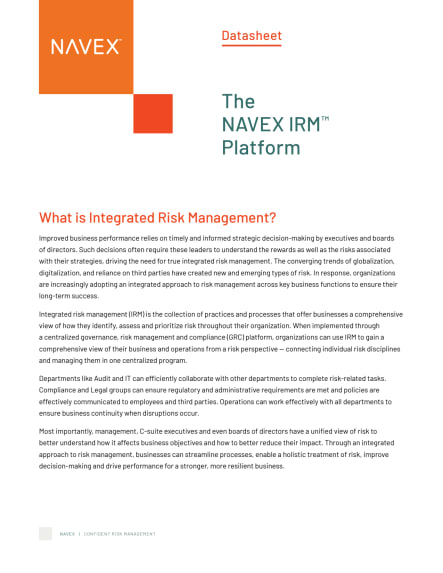 Datasheet
The NAVEX IRM Platform
Download
About this Datasheet
Integrated risk management (IRM) is the collection of practices and processes that offer businesses a comprehensive view of how they identify, assess and prioritize risk throughout their organization.
When implemented through a centralized governance, risk management and compliance (GRC) platform, organizations can use IRM to gain a comprehensive view of their business and operations from a risk perspective — connecting individual risk disciplines and managing them in one centralized program.
The NAVEX IRM platform brings visibility to risks frequently managed in disparate sources. Our platform editions aggregate datapoints from across the organization, as well as from assessments, audits, authoritative sources and external systems.
Having everything centralized, correlated and connected enables you to understand and holistically manage risk for a stronger, more resilient business.
For anyone responsible for:

Risk and compliance program management

What you'll learn:

How NAVEX IRM's integrated risk management capabilities address business use cases:

Compliance and Policy Management
Third-Party Risk Management
Business Continuity Management
IT Risk Management
Operational Risk Management
Audit Management
Health and Safety Management

Page length:

7 pages