Download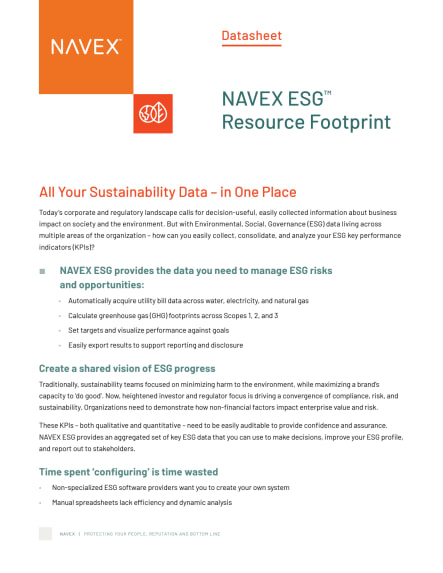 Datasheet
NAVEX ESG™ Resource Footprint
Download
About this Datasheet
NAVEX ESG's Resource Footprint Management collects, calculates and reports your environmental footprint across all your locations around the world.
For anyone responsible for:

ESG reporting, sustainability management

With NAVEX ESG's Sustainability Management:

Gain visibility to actions
Centralize sustainability efforts

Read the Datasheet

NAVEX ESG Resource Footprint

All Your Sustainability Data – in One Place

Today's corporate and regulatory landscape calls for decision-useful, easily collected information about business impact on society and the environment. But with Environmental, Social, Governance (ESG) data living across multiple areas of the organization – how can you easily collect, consolidate, and analyze your ESG key performance indicators (KPIs)?

Automatically acquire utility bill data across water, electricity, and natural gas
Calculate greenhouse gas (GHG) footprints across Scopes 1, 2, and 3
Set targets and visualize performance against goals
Easily export results to support reporting and disclosure

Create a shared vision of ESG progress

Traditionally, sustainability teams focused on minimizing harm to the environment, while maximizing a brand's capacity to 'do good'. Now, heightened investor and regulator focus is driving a convergence of compliance, risk, and sustainability. Organizations need to demonstrate how non-financial factors impact enterprise value and risk.

These KPIs – both qualitative and quantitative – need to be easily auditable to provide confidence and assurance. NAVEX ESG provides an aggregated set of key ESG data that you can use to make decisions, improve your ESG profile, and report out to stakeholders.

Time spent 'configuring' is time wasted

Non-specialized ESG software providers want you to create your own system
Manual spreadsheets lack efficiency and dynamic analysis
ESG management requires analysis and action, not systems administration
You need software that is data-ready to provide you a roadmap for action
NAVEX ESG is designed by long-time experts in sustainability, risk, and compliance
Innovation across ESG, GRC, and Risk Management is a focal point our strategy

Your ESG strategy hub

Developing an effective ESG program goes beyond data collection. You need to be able to set goals, see progress, and communicate with team members who can generate results. Used with NAVEX One solutions, you can turn your ESG plans into action.

Are you looking to improve supplier ESG performance? Measure your current states, set goals, and implement the corrective actions and policies that will help you achieve real results. It all starts here.

You can move your plans into action, and go beyond meetings, committees, and dashboarding to truly make an impact for your stakeholders.

Innovate Your Approach to GRC, Risk, and ESG

The NAVEX One platform enables you to create a modern governance, risk, and compliance (GRC) program. One that helps you manage risks across the spectrum of legal, business, sustainability, and employees. NAVEX ESG is a core component of your modern GRC strategy and can be used to help develop a holistic program that mitigates risk and creates value.

About NAVEX

NAVEX's GRC software and compliance management solutions support the integrated risk, ESG and compliance management programs at more than 13,000 organizations worldwide.
Let us evaluate your compliance program to understand what you're doing well and what you can improve