Download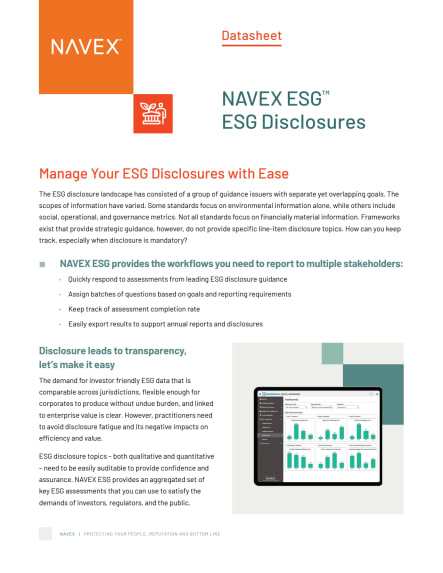 Datasheet
NAVEX ESG™ ESG Disclosures
Download
About this Datasheet
NAVEX ESG provides the workflows you need to report to multiple stakeholders.
For anyone responsible for:

ESG reporting, ESG disclosures

With NAVEX ESG's Framework Management:

Go beyond workflows and take action
Innovate your approach to GRC, Risk, and ESG

Read the Datasheet

NAVEX ESG Disclosures

Manage Your ESG Disclosures with Ease

The ESG disclosure landscape has consisted of a group of guidance issuers with separate yet overlapping goals. The scopes of information have varied. Some standards focus on environmental information alone, while others include social, operational, and governance metrics. Not all standards focus on financially material information. Frameworks exist that provide strategic guidance, however, do not provide specific line-item disclosure topics. How can you keep track, especially when disclosure is mandatory?

NAVEX ESG provides the workflows you need to report to multiple stakeholders:

Quickly respond to assessments from leading ESG standards setters and ratings agencies
Assign batches of questions based on goals and reporting requirements
Keep track of assessment completion rate
Easily export results to support annual reports and disclosures

Disclosure leads to transparency, let's make it easy

The demand for investor friendly ESG data that is comparable across jurisdictions, flexible enough for corporates to produce without undue burden, and linked to enterprise value is clear. However, practitioners need to avoid disclosure fatigue and its negative impacts on efficiency and value.

ESG disclosure topics – both qualitative and quantitative – need to be easily auditable to provide confidence and assurance. NAVEX ESG provides an aggregated set of key ESG assessments that you can use to satisfy the demands of investors, regulators, and the public.

Go beyond workflows and take action

Non-specialized ESG software providers want you to create your own system

Manual spreadsheets lack efficiency and dynamic analysis
ESG management requires analysis and action, not systems administration
You need software that is data-ready to provide you a roadmap for action
NAVEX ESG is designed by long-time experts in sustainability, risk, and compliance
Innovation across ESG, GRC, and Risk Management is a focal point our strategy

Your ESG Disclosure Guide

We partner with leading ESG standards setters, so you know you will have access to the latest guidance. If you are balancing multiple reporting channels, we make it easy for you to assign, collect, and report on the key performance indicators that matter.

As new mandatory disclosures take shape, we ensure to stay ahead of requirements so that you are not left playing catch up. Are you curious how you disclosed progress year-over-year? You can maintain an easy-to-audit-and-assure system of record.

Our product strategy aligns with developments in ESG reporting. As new rules and reporting requirements come out, we will make sure you have access and understand best practice.

Innovate your approach to GRC, Risk, and ESG

The NAVEX One platform enables you to create a modern governance, risk, and compliance (GRC) program. One that helps you manage risks across the spectrum of legal, business, sustainability, and employees. NAVEX ESG is a core component of your modern GRC strategy and can be used to help develop a holistic program that mitigates risk and creates value.

About NAVEX

NAVEX's GRC software and compliance management solutions support the integrated risk, ESG and compliance management programs at more than 13,000 organizations worldwide.
Let us evaluate your compliance program to understand what you're doing well and what you can improve