Download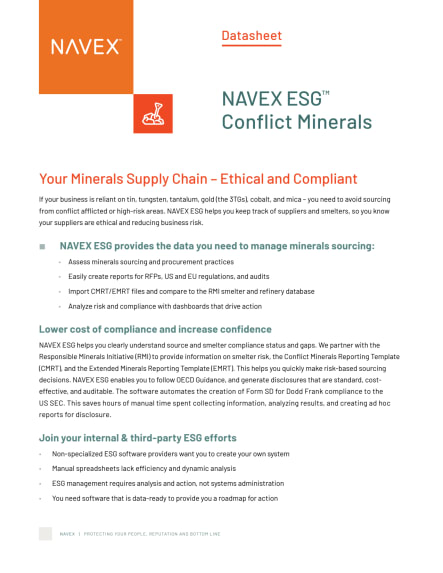 Datasheet
NAVEX ESG™ Conflict Minerals
Download
About this Datasheet
Conflict Minerals laws in the EU, US and growing number of US states are compelling businesses to monitor, report and possibly change business processes to share the values of citizens and consumers.
For anyone responsible for:

ESG reporting, conflict minerals management

With NAVEX ESG's Conflict Minerals:

Assess your supply chain
Identify sourcing risks and create required reporting
Let us evaluate your compliance program to understand what you're doing well and what you can improve
Read the Datasheet
NAVEX ESG Conflict Minerals
Your Minerals Supply Chain – Ethical and Compliant
If your business is reliant on tin, tungsten, tantalum, gold (the 3TGs), cobalt, and mica – you need to avoid sourcing from conflict afflicted or high-risk areas. NAVEX ESG helps you keep track of suppliers and smelters, so you know your suppliers are ethical and reducing business risk.
NAVEX ESG provides the data you need to manage minerals sourcing:
Assess minerals sourcing and procurement practices
Easily create reports for RFPs, US and EU regulations, and audits
Import CMRT/EMRT files and compare to the RMI smelter and refinery database
Analyze risk and compliance with dashboards that drive action
Lower cost of compliance and increase confidence
NAVEX ESG helps you clearly understand source and smelter compliance status and gaps. We partner with the Responsible Minerals Initiative (RMI) to provide information on smelter risk, the Conflict Minerals Reporting Template (CMRT), and the Extended Minerals Reporting Template (EMRT). This helps you quickly make risk-based sourcing decisions. NAVEX ESG enables you to follow OECD Guidance, and generate disclosures that are standard, costeffective, and auditable. The software automates the creation of Form SD for Dodd Frank compliance to the US SEC. This saves hours of manual time spent collecting information, analyzing results, and creating ad hoc reports for disclosure.
Join your internal & third-party ESG efforts
Non-specialized ESG software providers want you to create your own system
Manual spreadsheets lack efficiency and dynamic analysis
ESG management requires analysis and action, not systems administration
You need software that is data-ready to provide you a roadmap for action
NAVEX ESG is designed by long-time experts in sustainability, risk, and compliance
Innovation across ESG, GRC, and Risk Management is a focal point our strategy
Mitigate supplier ESG risks
Across many industries, supply chain management constitutes a financially material ESG risk. Are you doing what you can to address these risks?
This is especially true for companies reliant on minerals sourcing that includes the 3TGs, cobalt and mica. Both in the US and abroad rules exist to limit the sourcing of these minerals from certain countries to limit funding of human rights abuses and political instability.
Beyond minerals risk, a responsible supply chain adheres to environmental and social standards that have a positive impact on local communities. NAVEX ESG simplifies responsible supply chain management by consolidating supplier contact information, planning outreach via survey, and analyzing responses to give you a clear view of risk.
Innovate Your Approach to GRC, Risk, and ESG
The NAVEX One platform enables you to create a modern governance, risk, and compliance (GRC) program. One that helps you manage risks across the spectrum of legal, business, sustainability, and employees. NAVEX ESG is a core component of your modern GRC strategy and can be used to help develop a holistic program that mitigates risk and creates value.
About NAVEX
NAVEX's GRC software and compliance management solutions support the integrated risk, ESG and compliance management programs at more than 13,000 organizations worldwide.