Datasheet
ISO 27001 Certification
Download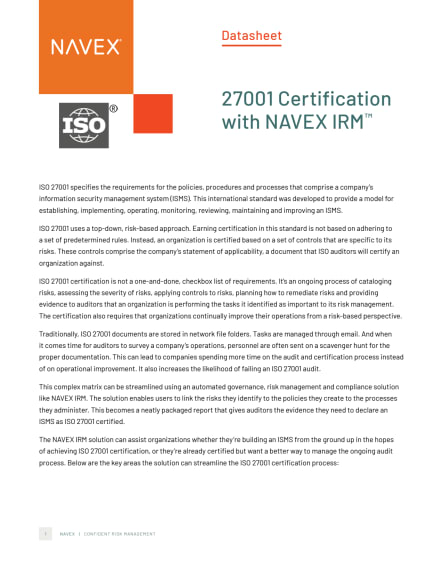 Datasheet
ISO 27001 Certification
Download
About this Datasheet
Achieving certification is not an easy task. Bring efficiency and effectiveness to building an ISMS and earning ISO 27001 certification with Lockpath.
For anyone responsible for:

ISO 27001 Certification

What you'll learn:

How to build an information security management system (ISMS) for achieving ISO 27001 certification

Read the Datasheet

ISO 27001 Certification

ISO 27001 specifies the requirements for the policies, procedures and processes that comprise a company's information security management system (ISMS). This international standard was developed to provide a model for establishing, implementing, operating, monitoring, reviewing, maintaining, and improving an ISMS.

ISO 27001 uses a top-down, risk-based approach. Earning certification in this standard is not based on adhering to a set of predetermined rules. Instead, an organization is certified based on a set of controls that are specific to its risks. These controls comprise the company's Statement of Applicability, a document that ISO auditors will certify an organization against.

Download the datasheet to learn more.

**About NAVEX** NAVEX's GRC software and compliance management solutions support the integrated risk, ESG and compliance management programs at more than 13,000 organizations worldwide.
Want to learn more about ISO 27001 Certification?