Download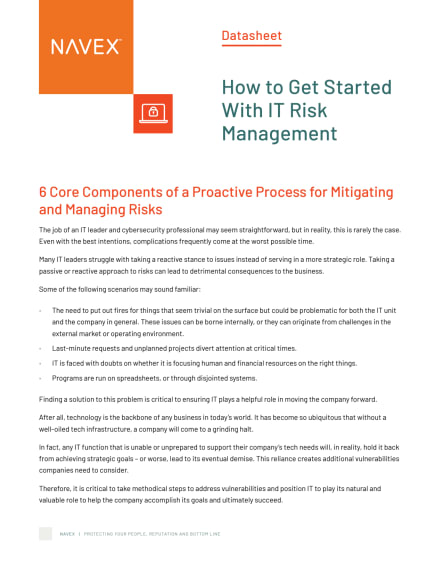 Datasheet
How to Get Started With IT Risk Management
Download
About this Datasheet
IT risk management is a continuous process – there is no endpoint. Whether your risk program currently utilizes spreadsheets or works within a digital solution, the steps outlined in this datasheet should guide your decisions about solution capabilities.
For anyone responsible for:

IT Risk or Integrated Risk Program Management

Solution:

Read the Datasheet

How to Get Started With IT Risk Management

6 Core Components of a Proactive Process for Mitigating and Managing Risks

The job of an IT leader and cybersecurity professional may seem straightforward, but in reality, this is rarely the case. Even with the best intentions, complications frequently come at the worst possible time.

Many IT leaders struggle with taking a reactive stance to issues instead of serving in a more strategic role. Taking a passive or reactive approach to risks can lead to detrimental consequences to the business.

Some of the following scenarios may sound familiar:

The need to put out fires for things that seem trivial on the surface but could be problematic for both the IT unit and the company in general. These issues can be borne internally, or they can originate from challenges in the external market or operating environment.
Last-minute requests and unplanned projects divert attention at critical times.
IT is faced with doubts on whether it is focusing human and financial resources on the right things.
Programs are run on spreadsheets, or through disjointed systems.

Finding a solution to this problem is critical to ensuring IT plays a helpful role in moving the company forward. After all, technology is the backbone of any business in today's world. It has become so ubiquitous that without a well-oiled tech infrastructure, a company will come to a grinding halt.

In fact, any IT function that is unable or unprepared to support their company's tech needs will, in reality, hold it back from achieving strategic goals – or worse, lead to its eventual demise. This reliance creates additional vulnerabilities companies need to consider.

Therefore, it is critical to take methodical steps to address vulnerabilities and position IT to play its natural and valuable role to help the company accomplish its goals and ultimately succeed.

Download the datasheet to learn more

About NAVEX

NAVEX's GRC software and compliance management solutions support the integrated risk, ESG and compliance management programs at more than 13,000 organizations worldwide.