Datasheet
HIPAA Audits, Compliance and Risk Management
Download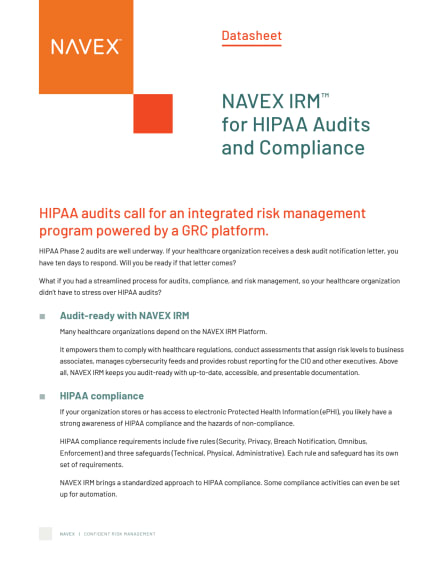 Datasheet
HIPAA Audits, Compliance and Risk Management
Download
About this Datasheet
Standardize and streamline compliance with HIPAA rules and safeguards using Lockpath. Rely on the platform to keep you audit-ready, manage compliance and make it easier to conduct risk assessments.
For anyone responsible for:

HIPAA compliance

What you'll learn:

How to streamline HIPAA compliance and risk management, as well as increase audit readiness
Want to learn more about compliance & risk management?
Read the Datasheet
HIPAA audits call for an integrated risk management program powered by a GRC platform
HIPAA Phase 2 audits are well underway. If your healthcare organization receives a desk audit notification letter, you have ten days to respond. Will you be ready if that letter comes?
What if you had a streamlined process for audits, compliance, and risk management, so your healthcare organization didn't have to stress over HIPAA audits?
Download the datasheet to learn more.
**About NAVEX** NAVEX's GRC software and compliance management solutions support the integrated risk, ESG and compliance management programs at more than 13,000 organizations worldwide.