Datasheet
EthicsPoint® Incident Management Datasheet
Download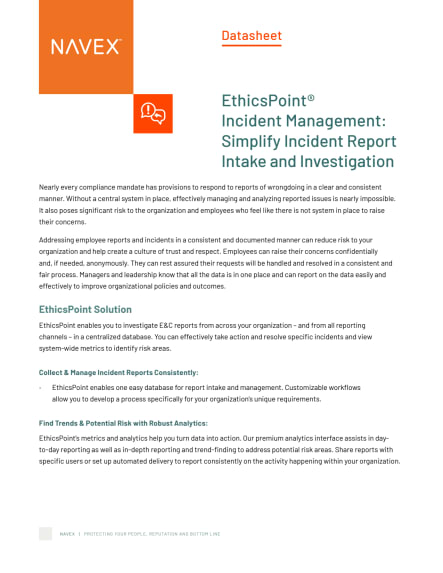 Datasheet
EthicsPoint® Incident Management Datasheet
Download
About this Datasheet
Learn how EthicsPoint incident management system creates consistency in the intake, reporting, resolution and analysis of incidents that pose risks to your organization.
For anyone responsible for:

Incident management and hotline intake, capturing incident reports

Learn how EthicsPoint Incident Management software will help you:

Collect reports from multiple sources
Consistently collect and respond to incidents
Identify potential risk areas
Increase productivity by setting up roles and skill-based permissions
Comply with international data privacy laws
Want to learn more about EthicsPoint?
Schedule a demo today.