Datasheet
COI Disclosures Conflict of Interest Management Datasheet
Download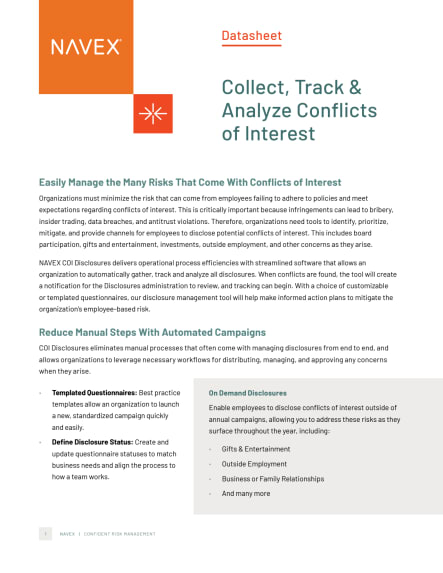 Datasheet
COI Disclosures Conflict of Interest Management Datasheet
Download
About this Datasheet
NAVEX COI Disclosures™ delivers operational process efficiencies with streamlined software that allows an organization to automatically gather, track and analyze all disclosures. When conflicts are found, the tool will create a notification for the Disclosures administration to review, and tracking can begin. With a choice of customizable or templated questionnaires, our disclosure management tool will help make informed action plans to mitigate the organization's employee-based risk.
For anyone responsible for:

Disclosure management, conflict of Interest management, distributing COI policies

What you'll learn:

The key features and benefits of Disclosures Conflict of Interest Management Software
Want to learn more about Disclosures?