Download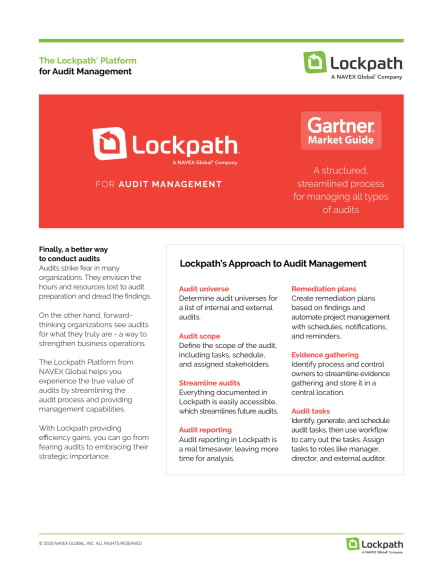 About this Datasheet
Make internal and external audits more efficient, regardless of the audit's requirements and tasks. Lockpath enables you to identify, generate and schedule tasks, gather and store evidence, document findings, launch investigations and manage remediation. Create workpapers and generate detailed reports quickly and easily. Lockpath offers a structured, streamlined process for managing all types of audits.
For anyone responsible for:

Audit management

What you'll learn:

How to streamline the collaboration, documentation, and management required for conducting audits

Read the Datasheet

Audit Management

Finally, a better way to conduct audits
Audits strike fear in many organizations. They envision the hours and resources lost to audit preparation and dread the findings.

On the other hand, forwardthinking organizations see audits for what they truly are - a way to strengthen business operations.

The Lockpath Platform from NAVEX helps you experience the true value of audits by streamlining the audit process and providing management capabilities.

With Lockpath providing efficiency gains, you can go from fearing audits to embracing their strategic importance.

Download the datasheet to learn more.

About NAVEX

NAVEX's GRC software and compliance management solutions support the integrated risk, ESG and compliance management programs at more than 13,000 organizations worldwide.
Want to learn more about Audit Management?