Case Study
Soneva Enhances 'Speak-Up' Channels
Download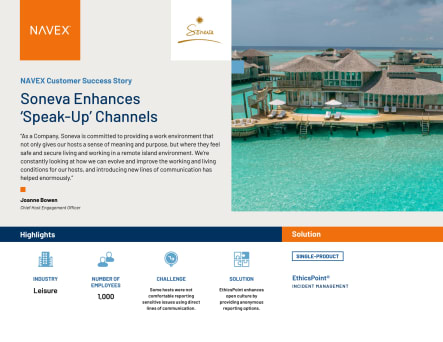 Case Study
Soneva Enhances 'Speak-Up' Channels
Download
About this Case Study
Soneva turned to NAVEX's incident management solution, EthicsPoint, to help them provide a safe, anonymous reporting solution for their hosts and employees.
Industry:

Leisure

Number of employees:

1,000

Before:

Some hosts were not comfortable reporting sensitive issues using direct lines of communication.

After:

EthicsPoint enhances open culture by providing anonymous reporting options.
Learn how to transform your hotline intake and incident management with EthicsPoint