Case Study
Soneva Enhances 'Speak-Up' Channels
Download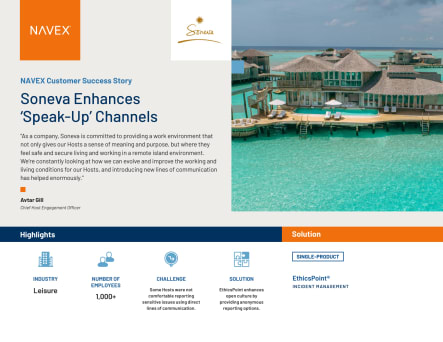 Case Study
Soneva Enhances 'Speak-Up' Channels
Download
About this Case Study
Ensuring employees feel safe and secure is one of the top priorities for Soneva, a luxury resort group with properties in the Maldives and Thailand. The company prides itself on open lines of communication between Hosts – Soneva's term for resort employees – and management. Learn how Soneva extended its commitment to a healthy workplace culture by introducing a new line of communication with NAVEX EthicsPoint.
Industry:

Leisure

Number of employees:

1,000+

Challenge:

Avtar Gill, Chief Host Engagement Officer, travels frequently to the resorts to meet and speak with the teams and during one of these visits he learned that there were instances when female Hosts were sometimes hesitant to use those direct lines of communication to report sensitive issues or to discuss concerns. Avtar wanted to make certain that Hosts would always feel comfortable to approach the company to discuss any issue, so decided to look for a way to enhance the existing lines of communication by providing a safe way for Hosts to make a report directly to him and the senior leadership (CORE) team.

Solution:

Acting on a recommendation from a colleague, Avtar turned to NAVEX's incident management solution, EthicsPoint, to help him provide a safe, anonymous reporting solution, that was not only available to all Hosts to report any incidents that they witnessed that went against Soneva's core values, but also opened an additional line of communication for Soneva's female Hosts working at the resorts in the event that they experienced any incidents that made them feel uncomfortable. "It was a case of, 'How can we make our Hosts feel safer, and have the opportunity to report any incidents confidentially?'" commented Avtar Gill. "On the ground there, I was made aware of an incident where a Host had felt uncomfortable to come forward and report an incident directly, fearing that it might get back to parties involved, or wouldn't be handled discreetly. We thought that having EthicsPoint as a reporting tool would be an ideal opportunity, if there were any such incidents in the future, to provide our Hosts with an alternative method for reporting incidents, if they wished." Soneva uses a version of EthicsPoint that provides employees with secure online access to a confidential reporting system. Avtar worked with NAVEX customer support to customize the website's submission page and set up the case management system to provide a secure repository to track and review each report to Soneva's specific needs. NAVEX also worked to translate the online report intake form into Thai. Avtar made sure that EthicsPoint is highly visible throughout the organization by putting posters in all of Soneva's offices and Host restaurants. Hosts are now fully aware that EthicsPoint is available to them, and the importance of reporting a concern is reiterated at every team meeting. Soneva's Founder and CEO, Sonu Shivdasani also mentions the availability of EthicsPoint regularly at the Company's quarterly 'CEO Connect' forum.
Learn how to transform your hotline intake and incident management with EthicsPoint