Case Study
Mobile Messaging Company Outgrows Manual Regulatory Compliance
Download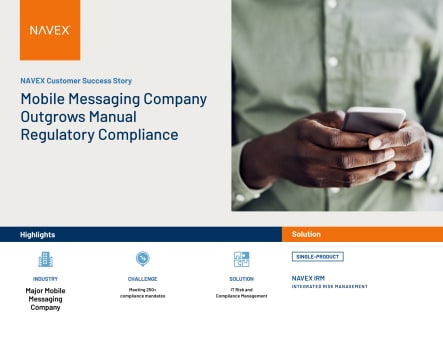 Case Study
Mobile Messaging Company Outgrows Manual Regulatory Compliance
Download
About this Case Study
This mobile messaging company needed a more efficient and comprehensive approach to compliance in order to do business with global enterprises. Lockpath's flexibility allowed the company to build a custom controls framework, enabling a unified approach to compliance that saves time and streamlines activities.
Industry:

Major Mobile Messaging Company

Challenge:

Meeting 250+ compliance mandates

Solution:

IT Risk and Compliance Management

Results:

Custom control framework

Read the Case Study

Challenge: Manual Processes Couldn't Keep Up with Compliance Demand

A mobile messaging company was in hyper-growth mode – but it needed to mature its compliance program to keep pace with a growing list of regulations and B2B customer demands. The company had to comply with 173 contracts, 254 regulatory mandates and 9,700 contract demands.

The company's startup culture made things harder, because it thrived on tribal knowledge, undocumented processes and a shoot-from-the-hip management style. While that culture could thrive in a small startup environment with few compliance mandates, the company had become a subsidiary of a publicly traded company and counted four of the top 10 global brands as customers. Meeting even basic business requirements was becoming impossible to manage using manual processes like spreadsheets.

Fortunately, one advantages of startup culture is willingness to change. The company hired a seasoned CISO (Chief Information Security Officer) with CPO (Chief Privacy Officer) credentials who spearheaded efforts to develop a more streamlined, comprehensive approach to compliance.

Download the case study to learn more.

**About NAVEX** NAVEX's GRC software and compliance management solutions support the integrated risk, ESG and compliance management programs at more than 13,000 organizations worldwide.
Want to learn more about Integrated Risk Management?