Download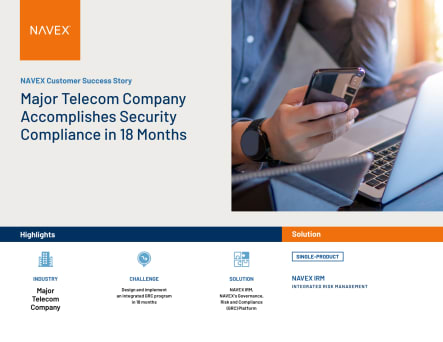 Case Study
Major Telecom Company Accomplishes Security Compliance in 18 Months
Download
About this Case Study
How did a major telecommunications company achieve its security compliance program in just 18 months? In Lockpath they found the perfect solution and partner for building a program and managing compliance, risk and security.
Industry:

Major Telecom Company

Challenge:

Design and implement an integrated GRC program in 18 months

Solution:

Lockpath, NAVEX's Governance, Risk and Compliance (GRC) Platform

Results:

Implement 7 programs in 18 months, saved 200+ hours per department, reduced audit findings costs by 80%

Read the Case Study

Challenge: Aggressive Board Mandate Triggers Lofty Company Goal

Companies are often cautioned against rolling out new large-scale programs all at the same time. Pushback from the status quo, steep learning curves, and lack of adoption have killed many programs with grand visions.

When an Alaska-based telecom was given a mandate by its board to create a broad-reaching governance, risk and compliance (GRC) program managing everything from audit and compliance to third-party risk and business continuity – success was not assured.

The telecom provider faced a number of challenges, including a staffing shortage, customer demands, a dynamic regulatory environment and the off-the-grid nature of Alaska. They relied on spreadsheets, email and tribal knowledge for a patchwork compliance program, and lacked a comprehensive view of real risk areas. To make it even more challenging, the Board requested the new GRC program to be up and running in 18 months.

Download the case study to learn more.

About NAVEX

NAVEX's GRC software and compliance management solutions support the integrated risk, ESG and compliance management programs at more than 13,000 organizations worldwide.
Want to learn more about Integrated Risk Management?