Case Study
Major Social Game Developer Embraces Integrated Risk Management & New Risk Culture
Download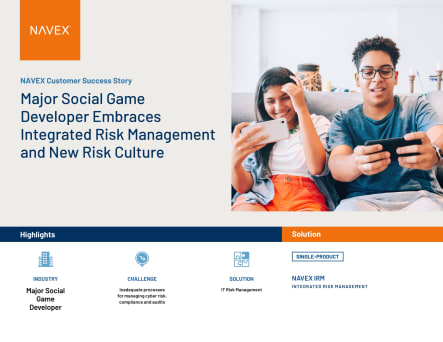 Case Study
Major Social Game Developer Embraces Integrated Risk Management & New Risk Culture
Download
About this Case Study
A fast-growing social game developer was challenged by using outdated processes and technology for managing risk and compliance. In Lockpath, they found a platform that could help them more efficiently manage IT risk, vulnerabilities, vendors, policies, even audits. Efficient integrated risk management also aids the company's game development and contributes to a risk culture.
Industry:

Major Social Game Developer

Challenge:

Inadequate processes for managing cyber risk, compliance and audits

Solution:

IT Risk Management

Results:

New program drives culture change

Read the Case Study

Challenge: Inadequate Processes for Managing Cyber Risk, Compliance & Audits

A high-profile social game developer creates popular mobile games that millions enjoy playing. But the company wasn't a skilled player at managing risk and complying with regulations.

While the game developer was leveling up and growing fast, they still used spreadsheets, word-processing, email and an Intranet site for governance, risk management and compliance. As a result, the company couldn't see vulnerabilities and the risks posed by them. Asset inventory audits took months to reconcile. Onboarding new vendors took four weeks. Even convincing employees to acknowledge company policies, like acceptable use, was a Herculean effort.

This game developer needed a senior analyst to lead its nascent program, as well as invest in a technology platform that could streamline cyber risk, compliance and audit management activities while supporting game development. Accomplishing both would help lead to the company-wide adoption of a new risk culture.

Download the case study to learn more.

**About NAVEX** NAVEX's GRC software and compliance management solutions support the integrated risk, ESG and compliance management programs at more than 13,000 organizations worldwide.
Want to learn more about Integrated Risk Management?