Download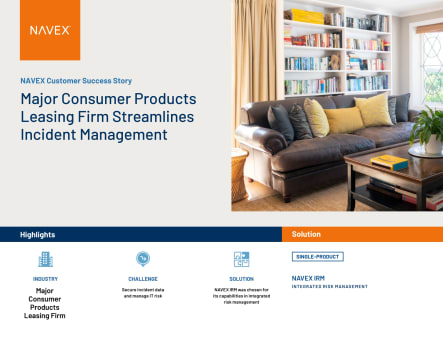 Case Study
Major Consumer Products Leasing Firm Streamlines Incident Management
Download
About this Case Study
The company's previous solution for incident management fell short in managing collected incident data. In Lockpath, they found a complete solution for managing incidents that streamlined processes and facilitated reporting. The company also links incident data to its assets, which aids in identifying IT risks.
Industry:

Major Consumer Products Leasing Firm

Challenge:

Secure incident data and manage IT risk

Solution:

NAVEX GRC Platform, Lockpath

Results:

Secure sensitive personal data, speed up vendor assessments

Read the Case Study

Challenge: Bring Security & Efficiency to Incident Management

Compliance requirements or incidents compel organizations to change. For a market leader in lease ownership of consumer products, the company faced both: requirements related to compliance and issues dealing with incidents.

Unfortunately, the company couldn't efficiently assign tasks related to incidents. The company's solution was reliable for gathering information on incidents, but it lacked steps for managing information toward a resolution in a secure manner. Another hurdle was controlling and restricting access to information around incidents that involved HR and, by extension, the Healthcare Information Portability and Accountability Act (HIPAA). Additionally, the company's use of vendors pointed to the need for regular assessments and a defined process for managing vendor incidents.

The company sought a more secure and efficient way to manage incidents associated with HR, vendors and IT, as well as a smarter approach to IT risks and vulnerabilities.

Download the case study to learn more.

About NAVEX

NAVEX's GRC software and compliance management solutions support the integrated risk, ESG and compliance management programs at more than 13,000 organizations worldwide.
Want to learn more about Integrated Risk Management?