Case Study
Kingspan Empowers Safety with Speak-Up Hotline
Download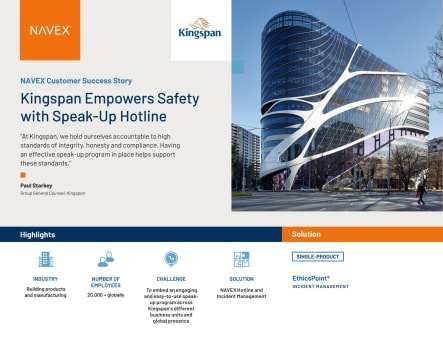 Case Study
Kingspan Empowers Safety with Speak-Up Hotline
Download
About this Case Study
Kingspan's goal was for workers to feel they could express concerns openly and without retaliation, having a positive experience of the process if they felt the need to speak up. The organization needed visibility of the facility to be as broad and accessible as possible to effectively support the global speak-up program and ensure both existing and new employees understood how and when to use the hotline.
Industry:

Building Products & Manufacturing

Number of employees:

20,000

Challenge:

To embed an engaging and easy-to-use speakup program across Kingspan's different business units and global presence

Solution:

NAVEX rolled out the EthicsPoint Hotline and Incident Management solution across Kingspan's international operations, with English and local language speak-up hotlines for all global and remote employees. EthicsPoint also allowed Kingspan to investigate ethics and compliance reports from across the organization's reporting channels within one centralized database. Communication and training were essential to the rollout of these hotlines. They connected the speak up program messaging to Kingspan's code of conduct, positioning speaking up as part of the organization's desire to act with honesty, integrity and within the boundaries of the law.