Case Study
High-Growth Software Company Scales to Meet Demand for Risk Monitoring
Download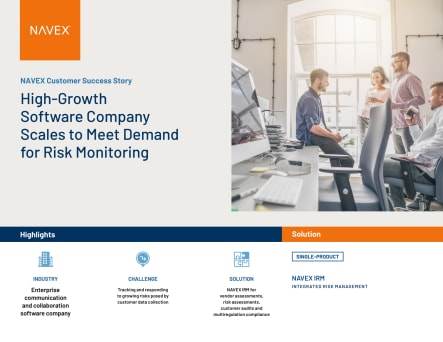 Case Study
High-Growth Software Company Scales to Meet Demand for Risk Monitoring
Download
About this Case Study
The company struggled with using manual processes when conducting internal audits and assessing vendors. Lockpath offered them the ability to centralize and link the data collected for managing compliance and audit investigations. It worked so well that the company uses Lockpath to maintain ISO 27001 certification and to comply with SOC II.
Industry:

High-Growth Software Company

Challenge:

Tracking and responding to growing risks posed by customer data collection

Solution:

Lockpath for vendor assessments, risk assessments, customer audits and multiregulation compliance

Results:

50% less time spent on security assessments

Read the Case Study

Challenge: Risk Management Processes Falter as a Successful Company Grows

Risk is the responsibility of everyone, and every process, within the organization. If you provide goods and services to your customers, you're responsible for appropriately handing their information – and that introduces risk.

Such was the case for a Portland, Oregon-based software company, which builds a popular enterprise communication solution for employee collaboration. When the company was small, responding to customer audit requests meant looking through old emails and updating spreadsheets. But success and growth in new markets introduced regulatory requirements from new industries, such as healthcare and finance; geographic data privacy laws; and various requirements for third party vendor relationships. Spreadsheets couldn't handle the job. The one-person information security team was overwhelmed.

This software company knew they had to find a more efficient way to respond to audit requests, and a more effective way to document their risk management efforts in a way that satisfied numerous regulatory and customer requirements.

Download the case study to learn more.

**About NAVEX** NAVEX's GRC software and compliance management solutions support the integrated risk, ESG and compliance management programs at more than 13,000 organizations worldwide.
Want to learn more about Integrated Risk Management?