Case Study
Berry Gardens provides a comprehensive, multi-lingual whistleblowing solution using NAVEX Ethics Point®
Download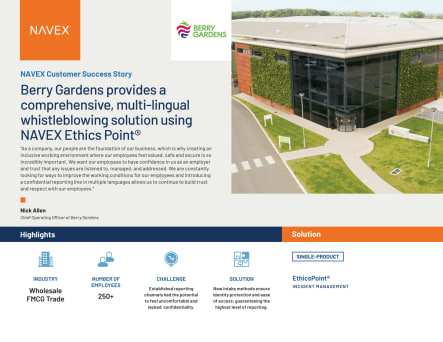 Case Study
Berry Gardens provides a comprehensive, multi-lingual whistleblowing solution using NAVEX Ethics Point®
Download
About this Case Study
Berry Gardens chose NAVEX's EthicsPoint solution because of its confidentiality, multi-lingual capabilities, the speed and quality of translations and the ability to provide 24/7 support, 364 days a year.
Industry:

Wholesale FMCG Trade

Number of employees:

250+

Challenge:

Established reporting channels had the potential to feel uncomfortable and lacked confidentiality.

Solution:

New intake methods ensure identity protection and ease of access, guaranteeing the highest level of reporting.
Learn how to transform your hotline intake and incident management with EthicsPoint