Case Study
Attain, Inc. Boosts Employee Engagement with Policy Management Software
Download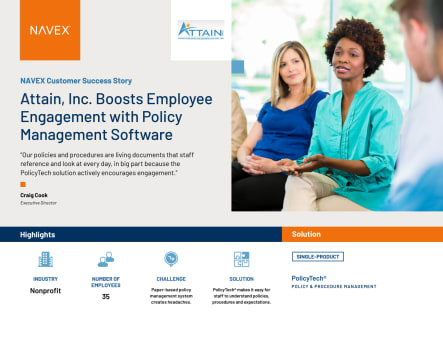 Case Study
Attain, Inc. Boosts Employee Engagement with Policy Management Software
Download
About this Case Study
With PolicyTech in place, Attain, Inc. employees can easily walk through the policy creation, management and distribution process.
Industry:

Nonprofit

Number of employees:

35

Before:

Paper-based policy management system creates headaches.

After:

PolicyTech® makes it easy for staff to understand policies, procedures and expectations.

Read the Case Study

Challenge: Paper Policy Management Creates Knowledge Gaps

With limited resources and a wide-range of policies to maintain, Attain, Inc.'s paper-based policy management system wasn't meeting the organization's needs. Using paper to manage policies made it difficult to verify when an employee had attested to a policy and challenging to confirm that they had really understood the policy and how it impacted their specific workflow.

When a process problem occurred, "the knee-jerk organization reaction was to write a memorandum or write a policy and distribute it among departments. You never had assurance that anybody read it or that anybody understood it," says Craig Cook, Executive Director.

Solution: PolicyTech® Boosts Employee Engagement

Attain, Inc. needed a system that would promote employee engagement with their policies. The organization met their match with PolicyTech policy management software. With PolicyTech in place, Attain, Inc. employees can easily walk through the policy creation, management and distribution process. When tweaks to a process are needed, instead of a paper-based memorandum, the software automatically distributes recommendations to other stakeholders in the process, who can then edit the policy and give feedback, or approve it. Once approved, the organization is able to distribute the policy where it needs to go and determine whether or not any knowledge tests are needed to assure full employee comprehension.

"It depends on the complexity, but within a matter of an hour or two, you can draft a new process, get it reviewed and get it distributed for managers and staff members to review and understand the new process. It is then clearer to the staff what's being expected of them," says Cook.

As a result of the streamlined policy processes, Cook has seen an uptick in engagement with the policies. "Our policies and procedures are living documents that staff reference and look at every day in big part because the PolicyTech solution actively encourages engagement." As an example of this the staff gets daily emails related to policies that are waiting to be read, creating an active engagement process throughout the year, instead of an annual policy review.

Results: PolicyTech Grows with the Organization

In the past eight years since Attain, Inc. partnered with NAVEX, the non-profit organization has grown tenfold, and the PolicyTech solution has been able to keep up every step of the way. "We have many software solutions in our business process. PolicyTech has probably been the most reliable solution we have," says Cook.

That reliability has been noticed by Attain, Inc. employees as well. When the organization distributes employee surveys, the one measure that is always marked with the highest grade is that employees know what's expected of them. Cook sees PolicyTech as a huge part of that by building employee knowledge and reinforcing staff training and development activities. "PolicyTech has been a great partner technology for us."

---

About Attain, Inc.

Attain, Inc. has been supporting people with developmental disabilities for over 20 years in Central Florida. Attain, Inc. provides an array of community-based programs for people with developmental disabilities. These programs include community based group homes, integrated adult day training services and behavior analysis services.
Learn how to put PolicyTech to use in your own organization