Case Study
Alliance Data Builds Robust Incident Management Program with EthicsPoint
Download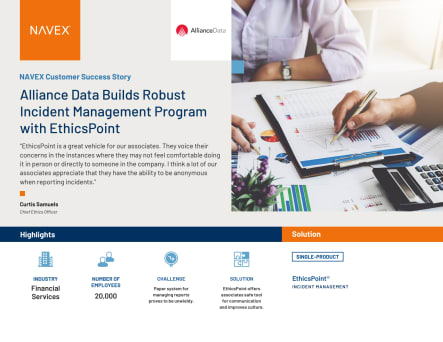 Case Study
Alliance Data Builds Robust Incident Management Program with EthicsPoint
Download
About this Case Study
With 20,000 associates across the company, chasing paper trails was inefficient and made it hard to manage employee reports effectively. Alliance Data made the switch to EthicsPoint Hotline and Incident Management software, allowing them to streamline and automate their employee reporting system.
Industry:

Financial Services

Number of employees:

20,000

Before:

Paper system for managing reports proves to be unwieldy.

After:

EthicsPoint offers associates safe tool for communication and improves culture.
Want to learn more about EthicsPoint? Schedule a demo today.